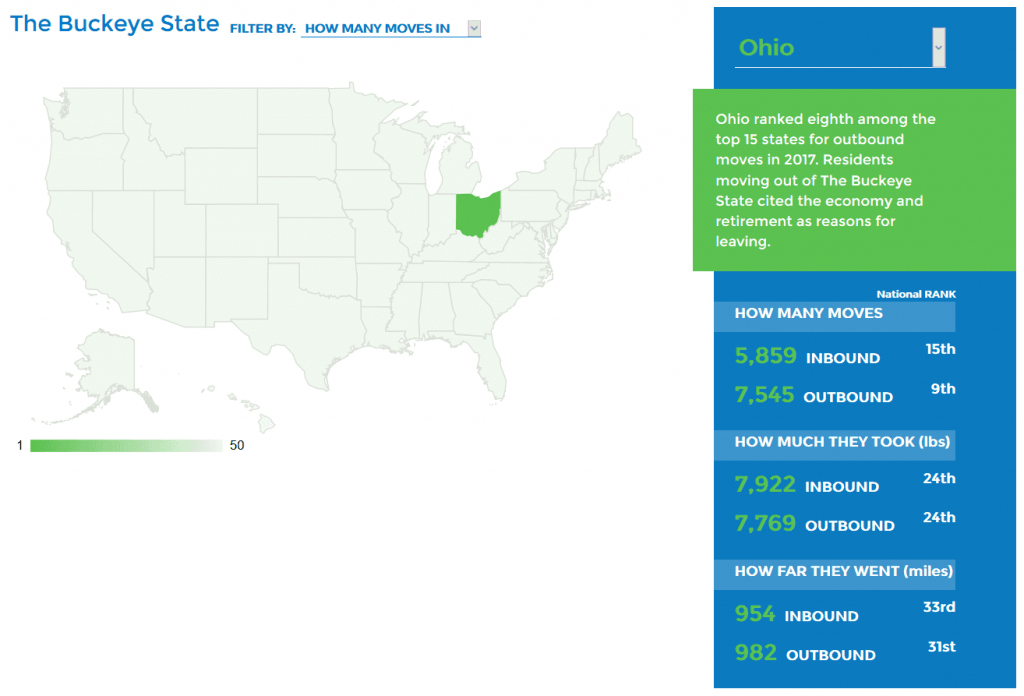 Click the image to expand.
Each year tens of thousands of long-distance moves occur across America. Some involve people moving between neighboring states, others involving people moving across the country and others still international moves for people moving to or from the U.S.
Cross country moves like these give movers a lot of insight into how people are choosing to plan and execute their moves. Since this information helps us serve customers better, we thought it would be a good idea to take a closer look at them. With data gathered by the American Moving and Storage Association (AMSA), Stevens Worldwide Van Lines were able to put together a Long Distance Moving Study, and we decided to share what the findings were!
The study sampled over 150,000 interstate moves and shows where people moved to, how far they had to travel to move there and how much they took with them when they moved. The study above shows info for long distance moves in Ohio. For information about all the lower 48 states, check out the full study at Stevens Worldwide.
*Due to the nature of the study, covering distance driven for state-to-state relocations, data for Hawaii is not available.
What We Learned
---
1,106 miles
Average distance traveled for long-distance relocations
39,466 moves
Total in the Western region, the most in the U.S.
16,864 in vs. 24,665 out
The Great Lakes had the most outbound shipments v. inbound
11
States with balanced numbers of people moving in v. moving out
---
Long Distance Moving in Cleveland, Ohio
When preparing for any type of long distance move, finding the right moving company is imperative. Everything from corporate relocations, to specialty moving services, to interstate family moves all require a moving company that is dedicated to being honest, reliable and thorough. When looking for the right movers, check out our helpful long distance moving tips blog for helpful hints on how a long-distance move is properly managed. We'll have another Long Distance Moving Study to present in 2019.