Electronics Packing, Palleting & Shipping
Quick Read
Since 1967, Stevens Moving & Storage has helped residents and businesses throughout Cleveland, OH successfully pack, pallet and ship their electronics and electronic equipment by:
Providing Proper Packing Material
Accurately Taking Inventory of Your Electronics
Inspect Electronics for Vulnerable Areas Before Packing & Shipping
Disassembling & Reassembling Your Electronics
Safe, Secure Storage of Your Electronics & Equipment
Domestic & International Electronics Shipping
Customers choose Stevens Moving & Storage of Cleveland to help them pack, pallet, haul and transport their electronics because:
We Are Fully Licensed & Insured
We Are Family-owned & Operated
We Have Over 35 Years of Electronics Shipping & Handling Experience
We Are Members of Ohio Movers Association and International Association of Movers
Contact us today and speak with a moving coordinator to pack, pallet, haul and transport your electronics right now. Fill out our free quote form or call us at (216) 587-1160.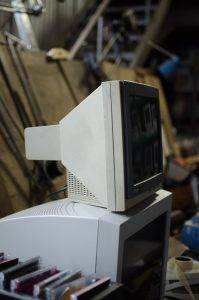 Stevens Moving & Storage of Cleveland can help take care of all your equipment packing and shipping needs in a quick, efficient manner. With over 35 years of experience in the moving and storage industry, we have the knowledge and expertise to successfully complete your computer equipment packing and palletizing job because:
We have a team of highly skilled packers and movers
We have access to the proper equipment and resources to provide professional packing, palletization and shipping services
Your outdated electronics will be properly packed and weighed before shipment
If you need help packing and palletizing your outdated electronic equipment, trust the experienced movers at Stevens Moving & Storage of Cleveland to take care of it for you!
Electronics Packing and Shipping in Cleveland
When it comes to moving electronic equipment out of your business, we can handle the entire process no matter how big or small the job. We have decades of experience in the moving and storage industry, so you can trust that we will handle your electronic equipment packing and palletizing with the utmost care and attention to detail.
Whether you have small, local businesses or large corporate offices, hospitals and universities, you can rely on Stevens Moving & Storage of Cleveland to provide you with expert services every step of the way. We will take care of packing, palletizing and shipping for your electronic equipment with little downtime and minimal disruption to your business.
What's our electronics palletizing, packing & shipping process? We're glad you asked!
Our team of packers and movers will arrive at your location with all the necessary equipment, packing boxes, pallets, and protective materials
Once all electronics and computer equipment packing is completed, we will load them onto our moving trucks to take them to our protected warehouse storage
Each package will then go through our inventory procedures and get prepared for shipping
Our electronic equipment packing and palletizing experts will even weigh your equipment to ease the shipment process
We make sure that no detail is overlooked, and we complete the electronic equipment packing process thoroughly and efficiently.
Trusted Cleveland Electronics Equipment Packing and Shipping Company
Stevens Moving & Storage of Cleveland offers a simple and affordable solution to moving electronics from your business. We have the experience, know-how and resources necessary to ensure a large number of your computers, printers, servers, monitors, tablets and any heavy electronic equipment are safely packed and shipped for repurposed use.
If you are looking for established electronic equipment packers and palletizing services in Cleveland, choose our trusted moving company for the job by filling out our free quote form or giving us a call at (216) 587-1160.