Gun Safe Moves to or from Cleveland, Ohio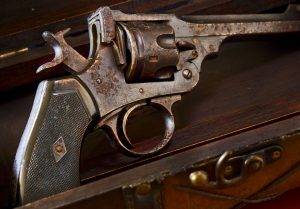 Our experienced team here at Stevens Moving & Storage of Cleveland know the intricacies involved in gun safe moves. A single gun safe is a scale tipping item with weight up to or exceeding 1,000 lbs. Gun safes can be extremely heavy, and moving them without professional help can be difficult and dangerous. To prevent personal injury or damage to your safe, we recommend hiring a professional mover with years of experience and the proper equipment to move your gun safe. Our team considers all the aspects of the move so you don't have to. With intense planning, years of experience, and specialized tools, our team is ready to handle your gun safe move. We have firsthand knowledge of the techniques needed to facilitate such a move. Maneuvering a gun safe through narrow hallways, small spaces, and up and down stairs can cause structural damage to your home, and can even cause you injury if attempted by yourself. We avoid theses damages by wrapping and padding your gun safe in home. We pride ourselves in the ability to get your gun safe out of the old residence and into the new one without causing any damage and keeping our customers safe by handling the heavy lifting ourselves.
Customized Services for Your Gun Safe Move
We acknowledge that gun safes are used for a variety of things such as personal protection, professional uses, hunting, target practice, heirlooms, and prized collections. Gun collections are no doubt valuable along with the gun safe they reside in. If you are a gun owner, you might encounter a situation in which you need your gun safely transported. If you value security and safety of your firearms, then you're in luck because our professional team will responsibly handle its transport to and from Cleveland, OH and surrounding areas, including Akron, Solon, and more. The professional movers at Stevens Moving & Storage of Cleveland have the tools and experience necessary to move your gun safe with the care and respect it deserves. With our dependable moving services, you will be assigned a representative who creates a specialized package that is tailored to you and your individual moving needs.
Hire a Gun Safe Moving Professional Today
Our trusted staff at Stevens Moving & Storage of Cleveland are experienced high-quality movers. Your gun safe will be moved with the care your cherished valuables deserve. We have the same admiration and respect for your specialty items that you do, and we have the experience and experts to facilitate all your moving needs. It is our specialty to ensure that all your items are moved with care and precision. We take pride in our many years of service to Cleveland, Ohio and the surrounding areas. Let the pros do it and take your moving experience to the next level. Contact us today so we can provide you with an excellent gun safe moving experience! Fill out our free quote online or call us at (855) 255-3733.