Gun Safe Movers
Quick Read
Since 1967, Stevens Moving & Storage wants to ensure that you have a safe and secure gun safe relocation experience. Our gun safe movers can help you by:
Moving your gun safe into or out of your home without injury or damage
Using proper equipment such as dollies, ratchet straps and tie downs
Using site protection for your property to protect it while we move your safe
Using protective materials for the safes protection including blanket and shrink wrap
Maneuvering around tricky obstacles and flights of stairs
Our customers choose to rely on professional gun safe movers like us because:
We Are Family-owned & Operated
We Are Fully Licensed & Insured
We Have Over 35 Years of Moving & Storage Experience
We Use Clean, Protective Pads to Wrap Your Belongings
Contact us today and speak with a moving coordinator for more information on how we can help move your heavy gun safe. Fill out our free quote form or call us at (216) 587-1160.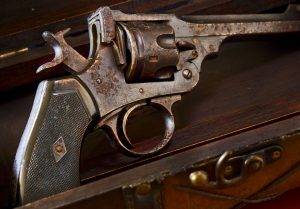 For Ohioans, guns are an integral part of life, with 19.6% of the population owning a registered firearm.
If you are one of these people, you might find yourself in need of a professional mover. These heavy safes can weigh up to 1,000 lbs – and without the proper equipment you could risk causing a potential accident or injury.
Stevens Moving & Storage of Cleveland has served the metropolitan area for the past 35 years. Our professional movers in Cleveland, Ohio service over 1,500 families, individuals and businesses per year.
We are highly experienced in moving gun safes of all shapes and sizes. You don't have to worry about your valuables when they're with us.
We will safely transport larger and hard-to-move items such as gun safes to and from the Cleveland, Ohio area, or even move them around in your home or business.
Gun Safe Moving Professionals
Are you wondering, "how to move a gun safe?" Our experienced team here at Stevens Moving & Storage of Cleveland knows the many intricacies involved in gun safe moves and can be of great help.
A gun safe is an intimidating object to move. They are heavy and contain dangerous items if not handled properly.
Hiring a team of experienced, certified movers can be the best decision to protect yourself and your safe during the move.
It can be difficult to figure out how to move a gun safe down stairs, and we don't want you to run into any trouble. We avoid causing potential damages to your home by always wrapping and padding your gun safe.
We have a plethora of moving equipment to facilitate a gun safe move. A special dolly is often needed to transport the item from one location to another.
We pride ourselves in our ability to provide a seamless, thorough gun safe move for you without the hassle of doing it yourself.
Customized Services for Your Gun Safe Move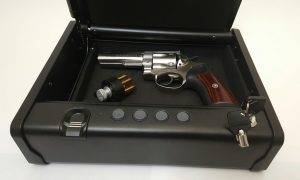 Gun safes provide a necessary function to house and protect your valuable gun collection. From professional uses, target practices, heirlooms, to prized collections – we know that your guns are an important asset to you.
If you are a gun owner, you will encounter a situation in which you need your gun safely transported. If you value the security and safety of your firearms, then you're in luck because our professional team will responsibly handle its transport to and from Cleveland, OH, or just around your home.
The professional movers at Stevens Moving & Storage of Cleveland have the tools and experience necessary to move your gun safe with the care and respect it deserves.
With our dependable moving services, you will be assigned a representative who creates a specialized package that is tailored to you and your individual moving needs.
Gun Safe Moving Tips
You will need to prepare for your gun safe move about 2 to 3 weeks before your selected date.
Ensure that you clean out your safe and its contents. You should be aware of any local laws that are applicable to firearms and gun safes. While there are certain regulations that exist in Cleveland, those regulations may vary depending on where you are moving to.
Stevens Moving & Storage of Cleveland can help you remove your floor bolts on your gun safe and reinsert them at your new location.
We can also assist in answering questions regarding gun laws in your hometown.
Our team of experts will give you all the proper resources you need to feel secure in moving your safe and getting it where it needs to go unscathed.
We strive to provide you complete peace of mind so that you can focus on the rest of your move with the knowledge that your gun safe is being handled in a professional and considerate manner.
Hire a Gun Safe Moving Professional Today
Our trusted staff at Stevens Moving & Storage of Cleveland are experienced high-quality movers.
Your gun safe will be moved with the care your valuables deserve. We have the same admiration and respect for your possessions that you do, and we have the experience and experts to facilitate all your moving needs.
It is our specialty to ensure that all your items are moved with care and precision. We take pride in our many years of service to Cleveland, Ohio and the surrounding areas.
Don't overthink about how to move a 1000 lb gun safe – let the pros do it and take your moving experience to the next level.
Contact us today with your gun safe moving cost questions, so we can provide you with an excellent and efficient moving experience! Fill out our free quote online or call us at (216) 202-6925.