Office Movers
Quick Read
Since 1967, Stevens Moving & Storage has been providing office moving and storage services whether you're moving a small, medium or large office–or even your home office. Our professional moving crew can help you with:
Corporate Relocation Services
Asset Management Services
Office Furniture & Equipment Handling and Shipping
Electronics Packing & Shipping
Customers choose Stevens Moving & Storage of Cleveland to help them with their office moves because:
We Reduce Noise Disruption for a Speedy Move
We Are Fully Licensed & Insured
We Are Family-owned & operated
We Have Over 35 Years of Moving & Storage Experience
We Are Members of Ohio Movers Association and International Association of Movers
Contact us today and speak with a moving coordinator to book your office move right now. Fill out our free quote form or call us at (216) 587-1160.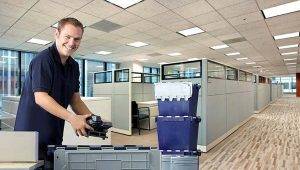 Planning an office move is a big undertaking that requires the help of a professional moving company. With the help of Stevens Moving & Storage of Cleveland, you will be confident that you will have a successful and hassle-free office relocation.
Stevens Moving & Storage of Cleveland is an office relocation company in Cleveland, Ohio that has helped a variety of businesses ranging from small operations to Fortune 500 companies with their office move. We specialize in both local moves and long-distance moving services so no matter where you are relocating, we are the experts that can get it done.
Cleveland Office Moving Services
Stevens Moving & Storage of Cleveland is a full-service moving company that can provide your business with a variety of moving services.
Corporate Relocation: Our moving consultants can help you manage and arrange all employee relocations.
Asset Management: We can provide you with project managers who will organize and manage your inventory. Including office documents, office equipment and other assets.
Electronics Packing & Shipping: We have the resources and equipment for shrink-wrapping and palletizing your sold office electronics in preparation for shipment.
Our office furniture movers are trained experts in packing, disassembly and reassembly of furniture and the installation of all types of office furniture including cubicles, desks and much more. Whether you are looking for help moving your office or need an expert project manager for handling business assets, Stevens Moving & Storage of Cleveland has you covered.
Office Moving with Minimal Downtime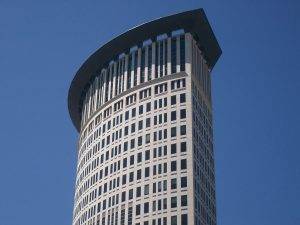 We know that as a business owner, the threat of possible downtime to your office is always a concern when planning an office move. At Stevens Moving & Storage of Cleveland, we believe that your office's productivity should not suffer because of a relocation.
When planning your office move with Stevens Moving & Storage of Cleveland, we work with you in establishing the best days and time frames to complete your relocation. We follow all guidelines and rules laid out by both your current and new office space. Evenings and weekend move dates are available ensuring little to no downtime to your office's day-to-day.
Expert Commercial Movers
As expert commercial movers we are dedicated to making your office's transition as easy as possible. By following these three simple office moving tips, you will ease your moving process.
Assemble a Plan: Create a physical office moving checklist for everything that needs to be done. Prioritizing tasks will make sure nothing is forgotten or put off.
Assign Everyone a Job: To split the workload assign every employee a task for the move. Something as simple as having your employees pack up their own workspace will alleviate the amount of work that needs to be done. It is also a great team building tool to have everyone working together.
Schedule Meeting and Projects Accordingly: Notify any vendors or clients about your moving plans at least a month prior to your move. Any meetings that you have should be scheduled two weeks prior or after you settle into your new office space. Major projects and deadlines should be put off until the move is complete as well.
Office Moving Cleveland, OH
When looking for commercial moving companies in Cleveland, OH the choice is clear. Stevens Moving & Storage of Cleveland can cover every aspect of your commercial move. To learn more about our commercial moving services contact us today at (216) 202-6925 to speak with one of our moving representatives. To begin your next office relocation today fill out our online form and receive a free quote for your office move.