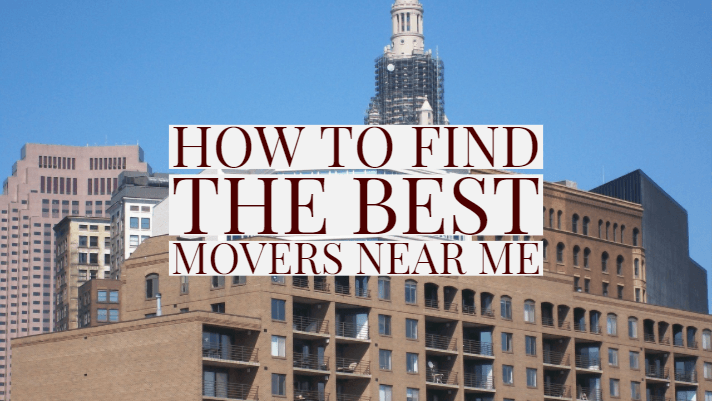 8 Ways To Find The Best Movers Near Me In Cleveland, OH
If you're a first-time mover in Cleveland, OH you may not know how to go about hiring a moving company. With any service or product you purchase, you want to be sure you're getting the best option available.
Whether you are moving out of state from Cleveland or are simply relocating somewhere else in Northeast Ohio, you need to know the right questions to ask and what to look for to ensure yourself you are getting the best mover.
1.) Begin With A Google Search
Use Google or other search engines to begin finding the top moving companies in Cleveland, OH.
Begin finding the best Cleveland moving company by searching for the moving services you need on the internet. Search engines like Google are your one-stop shop for finding all the services you need.
Search phrases such as "moving companies near me" and "find movers near me," help you compile a list of potential candidates. Google and other search engines are smart enough to display moving companies in the Cleveland area that offer the services you need.
2.) Read Reviews On Cleveland Moving Companies
Past testimonies and reviews will help you narrow down your list of potential moving companies you're considering hiring.
Look at the Better Business Bureau (BBB), Google reviews, Angie's List or any other reviews websites. Review websites prevent moving companies from exaggerating the quality of their services. Review websites are filled with real past customer experiences which is what is used to rank that moving companies overall score.
However, be wary of any mover that is showing as a five-star company. This may be the result of artificial reviews. On the other hand, one-star companies often are the result of biased opinions. Your best bet for finding the best moving company on your list is anyone with a rating of three to four.
3.) Get Recommendations On Movers
Rely on your friends and family to help with your search.
Your family and friends will most likely be a reliable source for finding the moving services you need.
However, if you don't receive a reference from your friends or family you can turn to the moving company itself. The best moving companies in Cleveland are the ones who can provide you with unbiased customer references.
4.) Know What Moving Services You Need In Cleveland
The most important step for finding the best mover in Cleveland is knowing what moving services you need.
Your moving costs can add up quickly if you begin your search prior to knowing exactly what you need. The best moving company will always have exceptional customer service and is willing to listen instead of sell. The best way in identifying the services you need is by breaking down your household goods into four categories and asking them how they can assist you:
Things you can carry on yourself.
Things that can be packed into a box.
Things that can't fit in a box but can be carried.
Things that require two or more people and special equipment for transportation.
Anything that falls into the last two categories will require the assistance from a moving company. This is applicable for any type of move you are planning.
For local moving, you will need movers if any of your items fall into the last category. However, for long distance moves from Cleveland, you're going to need long distance movers to help assist you with any items that fall into the last three categories.
You also need to consider if you will be requiring additional services such as packing help, decluttering, storage, etc. If that is the case, be sure to ask the moving representative if they offer packing services, specialty moving services or any other services you need. Note any extra fees.
5.) Avoid Cleveland Movers That Require A Deposit
Movers that require a deposit prior to their services often lead to scams.
Avoid any moving company that requires you to put a credit card on file or pay a deposit upfront.
This is a common strategy for scamming customers out of money. The customer ends up putting the money down and the next thing they know, no one shows up on their moving day.
6.) Get Several Home Estimates
Don't settle on the cheapest mover near you.
To help you find the best mover for you, schedule several in-home estimates. The best movers will offer to quote your home and household goods for free.
Do this to compare each move price and identify which company in Cleveland is within your budget. Often the cheapest mover is not the best mover. Although it may seem like you are getting a deal, cheap prices often result in poor services. Poor services lead to damaged possessions and hidden fees which could end up costing you more money in the long run.
7.) Choose A Cleveland Moving Company With The Right Credentials
Find a moving company registered with the Department of Transportation and the Federal Motor Carrier Safety Administration.
A mover that is registered with the Federal Motor Carrier Safety Administration is proof that they are insured and fully licensed. This will protect you and your possessions from any scam, and you can rest assured knowing that your move is reliable.
Be wary of any moving companies that have switched names. Movers who have been caught scamming customers in the past or are trying to run away from their negative reviews try to avoid their history by switching their company name.
The Federal Motor Carrier Administration is your golden ticket in identifying the best option on your list. They keep track of any changes in licensing, names changes or other information related to that mover.
Look on the moving company's website to see if they display their DOT and MC number. The best movers have their numbers displayed on their website, typically located on the "About Us" page or in the footer.
8.) Call and Ask The Right Questions
To ensure you're finding the best mover in Cleveland, pick up the phone.
Call the moving companies you are considering. The best movers are the ones who pick up their phones right away and are willing to help answer any questions you have about their services.
The communication between you and the moving company is critical to the success of your move. You need a mover that is there by your side, willing to assist you with any moving services you need.