If you are planning to pack yourself, Stevens Moving & Storage of Cleveland also has some helpful tips, tricks and advice to share for getting the job done.
When you pack for an upcoming move, organization is key to a stress-free transition. Hiring a professional packing crew can eliminate a chore on your to-do list and you will be able to focus on other priorities. At Stevens Moving & Storage of Cleveland, we have over 35 years of experience, so we have done our share of packing for our satisfied customers. We have new moving boxes and packing supplies for sale and one of our sales representatives will be happy to assist you with your purchase. You can also ask a sales representative if we have any free used boxes available. Boxes purchased through retailers vary in shape and size which may cause gaps when stacking them on the truck increasing the likelihood for potential damage.
If you are planning to pack yourself, Stevens Moving & Storage of Cleveland also has some helpful tips, tricks and advice to share for getting the job done. The helpful tips, tricks and hacks we will share with you are essential time and money savers. Your move can be made much easier if you follow the advice the moving experts have to share.
Packing Supplies for Free
If you plan in advance for your move, you have the opportunity to save money. Many packing supplies can be accumulated for free if you just know where to look. Here is a list of places you can find free boxes for moving that will lower the cost to pack for moving day.
Office Depot and Staples
Bookstores
Your local grocery store
Craigslist.org
U-Haul Box Exchange® community message board
Use Packing Paper to Pack for a Move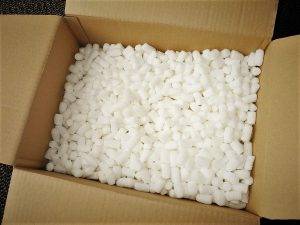 Some items may require bubble wrap and packing peanuts, but if you store plenty of old packing paper over time, you will have a cost-effective option for your move. Months before you start to pack, you can get in the habit of storing your old packing paper in a dry location and you will be thankful come moving day when you don't have to buy packing materials. Although we discourage the use of newspaper whenever possible because it can easily transfer onto belongings, you can always use newspaper if you choose.
When storing clothes, make sure you roll your clothes instead of leaving them on hangers. This trick will help reduce the space your linens take up and make your packing job easier. Vacuum sealed bags can also help reduce the amount of space your seasonal clothing takes up when stored and packed. Winter clothes can take up the most space and it is a good idea to shrink them with vacuum suction if you are able to.
Hacks: Packing for Moving
Facebook is a great resource to read content about moving and packing that people post and share. On Facebook, you can find helpful packing tips, videos and photos that are posted and even share your own content after you are finished with your move.
Pinterest is another useful online resource for learning moving hacks and tips that people post. On Pinterest, you can follow people who share great content leading up to your packing day. With the help of your online resources, you will be able to pack and move like a pro.
Use proper fitting boxes, not ones that are too big. The extra space in boxes is not what you want when it comes time to drive to your destination. Eliminating this extra space helps prevent your items from moving around during transit.
Tape your boxes tight to prevent them from opening. Wrap tape around the sides and bottom if the items inside are heavy.
Label your boxes based on the room they belong in and don't mix your room items around. Use color coordinated labels to help you organize your moving day work.
Pack the items you need to use first in clear plastic bins. Using these transparent bins can help you see what you need to unload first right after you move.
Pack your dishes and ceramic kitchen items vertically to keep them safe from damage during your move. Another trick is to place Styrofoam plates in between your ceramic ones. This ensures that if your ceramic dishes do move, they will have added protection against damage.
Any furniture that has to be disassembled will have tiny screws and parts to keep track of. Make sure you label these parts. You can even tape them to the furniture itself if the piece of furniture has an unfinished surface. You don't want to have to share stories later about how you lost the screws to reassemble your furniture.
Taking a picture of your electronic wiring for computers and entertainment consoles can save you time when you have to reconnect them in your new place.
If you have too much stuff and don't want to pack and move it all, selling or donating any items you are willing to part with can be a great way to make some money and lighten your load. When you share items you no longer use by donating them to charity, you are giving back to the community.
If you have more than you can handle by yourself, call someone to help share the load. Don't hurt yourself going at it alone. Hire professionals if you want the packing and logistics of your move to be taken care of for you.