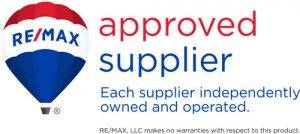 A Moving Company with Experience
RE/MAX® is a dedicated real estate company with over 45 years of service. Their agents have developed a reputation in which customers are the first priority. At Stevens Moving & Storage of Cleveland, we share the same philosophy. To further our commitment to sterling service, we have partnered with RE/MAX® for a moving experience unlike any other. Together our more than 80 years of service means that your move will always be handled with the utmost discretion. After coordinating a house choice with RE/MAX®, you can trust us to get all of their belongings from one point to the next safely. Every one of your customers is designated their own relocation specialist who coordinates all parts of the move. Our relocation specialist is there to answer any questions they may have. As an interstate agent of Stevens Worldwide Van Lines, a leader in the industry, we ensure that your customers will be more than satisfied with their next move to or from the Greater Cleveland area. This alliance will provide all of your customers the quality benefits we are known for. Some advantages of this partnership include:
Your customers will be "Preferred Customers", and receive exclusive rates, discounted and free valuation.
Preferred pickup and delivery dates for your customer gives them a personalized, high-quality move plan.
Special short-term storage rates during staging while your customer sells their home.
Up-to-the-minute information about the move with SVL online tracking, including written confirmation of all arrangements, so your customers are not just in the know about services and costs, it's documented and at their fingertips at Stevens' Online System.
Certified, trained and tested, Stevens Worldwide Van Lines team packers and drivers make customer care and satisfaction a top priority.
Pre-move and post-move communication with your customer to ensure no detail of the move is left unchecked.
Professional wrapping of all of your customer's furniture to prevent any damage or scraping of floors.
Stevens Home Protection Kit™ will keep your customer's home or business in top condition throughout the move.
Assistance with move issues and claims procedures for your customer should they arise.
A network of more than 700 overseas moving agents and freight-forwarders for all of your customer's international moving needs.
Co-branded marketing materials will support your sales effort.
Coordination is crucial during any move. With our combined forces on your side, you'll be able to avoid stress and enjoy your new journey. If you're still curious about the benefits of this partnership call Stevens Moving & Storage of Cleveland at (216) 587-1160.