Specialty Movers in Cleveland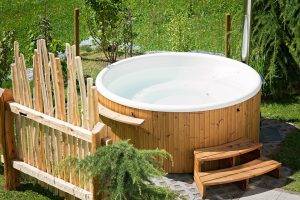 Moving can take time, especially when you have uncommon items such as hot tubs. Here at Stevens Moving & Storage of Cleveland, we have experts experienced in moving specialty items. We've serviced the entire Greater Cleveland area for the past 35 years and our company services at least 1,500 moves per year. We offer local, interstate and cross country moves. Our full service moving company operates year round to help facilitate our customer's various moving needs. Here at Stevens Moving & Storage of Cleveland, no job is too big. Trust our professionals with your hot tub moving needs today.
Hot Tub Movers in Cleveland, OH
Moving a hot tub can be overbearing for an individual without assistance. The average hot tub can weigh anywhere from 500-1,000 lbs. Moving a hot tub alone or without professional assistance can cause personal injury to the mover or internal or structural damage to the hot tub. Special precautions and equipment are necessary when moving a hot tub. Our professionals here at Stevens Moving & Storage of Cleveland are knowledgeable in all aspects of the hot tub relocation process. Our team will come in and evaluate the area surrounding the hot tub to help develop a plan that enables us to move the hot tub while diminishing any possible risk of damage to any structure, objects or people in the immediate vicinity. We create a detailed moving plan specifically tailored to meet your moving needs. Our detailed moving plans help us designate the proper number of professionals to help facilitate your move. Our experienced movers come prepared with a truck fully stocked with the proper equipment necessary to move your hot tub or other specialty item. Should heavy machinery be required, our team is certified and experienced in its safe operation. Here at Stevens Moving & Storage, we want to ensure that everything is done right from start to finish. Our professionals will assist with the draining process of the hot tub and unhooking all of your hot tub's electrical. Once the move is complete, we will ensure that the hot tub is filled and once reconnected to its electrical outlets, that it is working properly and able to be used.
Free Hot Tub Moving Quote
If you are in the Greater Cleveland area and looking to move your hot tub, call the movers you can trust. Here at Stevens Moving & Storage of Cleveland we pride ourselves on quality and service. Our professional team uses the most up to date methods and machinery to facilitate each move. We understand the importance of your valuables, and we treat each move with the care and respect it deserves. Steven Moving & Storage Cleveland has the top of the line professionals willing to go above and beyond for you. Get your move started today by filling out our free online quote form. Contact us today at Contact us today at (216) 587-1160.