Electronics Recycling and E-Recycling Services
As a professional full-service moving and storage company in Cleveland, we've provided services for all types of moves. We're experienced in moving residents, individuals, and businesses to and from the Greater Cleveland area. Throughout our history, we've been a leading mover in the Cleveland metropolitan area. We pride ourselves on our commitment to customer service and providing a stress-free moving experience.
E-Recycling and Disposal in Cleveland
Whether you are moving a commercial or residential property, you probably have a lot of electronics around. In today's age, daily electronic usage has become widespread. Electronics such as old phones, tablets, computers, televisions, and more are so common in our day to day lives that we often forget they may require specialty disposal. Often, electronics will contain sensitive information and data, as well as hazardous materials that need special attention when we dispose of them. Every year, millions of tons of electronic waste end up in landfills or incinerators. When these devices are not recycled properly, harmful waste and materials soak into the groundwater and contaminate the environment. Another risk that businesses especially face is data theft from improperly disposed of electronics such as computers and hard drives. Our e-recycling services will eliminate this risk and keep your information safe.
Responsible E-Recycling by Movers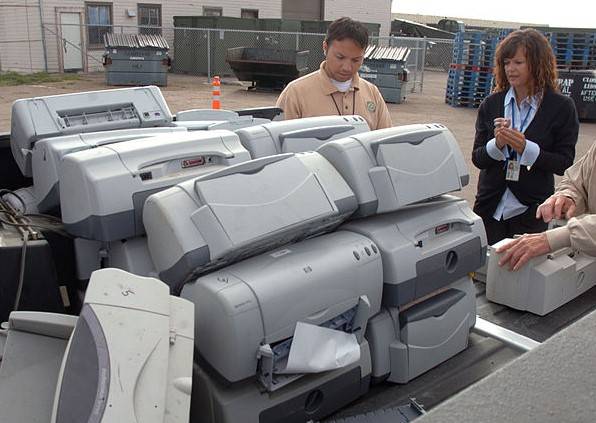 As a full-service moving and storage company with over 35 years of experience, we will dispose of your electronic waste the responsible way. We can haul your electronics away after your move is completed or you can schedule a convenient pick-up. Dispose of your electronics properly and responsibly with Stevens Moving & Storage of Cleveland services to prevent contamination to the environment. If you require e-recycling services throughout your move, or are simply upgrading your equipment, contact Stevens Moving & Storage of Cleveland to properly dispose of your electronic waste. Old computers, fax machines, printers and other outdated and unwanted electronics can easily be disposed of with our e-recycling services. After we collect your unwanted electronics you will be provided with a certificate of destruction and environmentally friendly disposal, so you can trust that you are in safe hands. If you have any questions about our e-recycling services, contact us or fill out our online form for a free quote.