Greater Cleveland Corporate and Office Relocations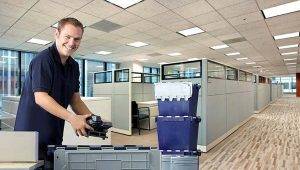 Planning and executing a commercial or office relocation to or from the Cleveland area can be a very difficult task without the proper help. There are many important things you must consider when relocating your business to minimize loss, risk and downtime. The moving professionals at Stevens Moving & Storage of Cleveland have over 35 years of commercial relocation experience throughout the Cleveland metropolitan area. We have the knowledge and expertise to make your Cleveland office move an easy and stress-free experience for you, your employees, and your customers. We execute more than 1,500 moves per year and have provided commercial moving services for hospital and healthcare facilities, libraries, small and large businesses, laboratories, plant-warehouses, and more.
Office Furniture Movers in Cleveland
Commercial relocations often require specialty-moving services pertaining to office documents, furniture, equipment, and more. No matter what size move you have, we've handled office moves of all sizes throughout Cleveland, including small businesses and Fortune 500 companies. As a full-service mover we can provide specialized services such as packing and crating, disassembly, re-assembly, and installation of all types of office furniture including cubicles, desks, and more. You can trust our experienced and skilled team of movers to get the job done right. We offer affordable solutions for furniture and equipment packing, receiving, delivery, warehousing, for all of your office equipment. If you require asset disposal services for items such as old electronics or furniture, we can assist in the donation of your office furniture to local non-profit agencies, connect you with used furniture buyers, or properly dispose of your items. If items cannot be donated or sold, they will be delivered or shipped to a local recycling agency or disposal facility for you. Office moves are complex, so let us handle all the fine details and hard work for you.
Commercial Moving Experts
Whether you need to move your entire company across the state of Ohio, or relocate your office within the same building, Stevens Moving & Storage of Cleveland is the commercial mover you can trust. We offer professional, high-quality moving and storage services throughout the Greater Cleveland area and beyond. Every industrial or commercial move with our moving company is assigned a moving coordinator to create a personalized moving plan to meet your specific moving needs. We understand that limiting the amount of downtime is crucial when it comes to your Cleveland business, so we use proven commercial relocation methods to ensure we complete your move on time and on budget. Our expert movers will handle your items carefully, using specialized padding and coverings to prevent damage to your belongings and the building. We also offer short-term or long-term storage in secure, climate-controlled warehouses, perfect for extra equipment and furniture. Rest assured there will never be any hidden costs associated with the extra value we'll provide throughout your Cleveland office move. To learn more about how we can assist with your office relocation in Cleveland, contact us or fill out our online form to receive your free quote!